The latest version of ClassiPress was made available yesterday which is a maintenance release for v3.0.5. v3.0.5 was released last month and included a bunch of new features – many of which were scheduled to be in v3.1. In all, there were 158 tickets closed out.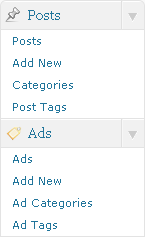 We made the decision to break apart v3.1 into two different releases mainly so we could first take advantage of a important WordPress 3.0 feature.
Custom Post Types and Taxonomies
This was the biggest change and required us to move the entire theme over to custom post types and taxonomies. It was a huge undertaking from a development standpoint and took the majority of our time to complete.
It made more sense for us and our customers to release this huge change in a pre 3.1 release instead of lumping everything into one gigantic release. This will essentially ease everyone into the new UI and feature-set.
Read more