Clipper v1.1 is Now Available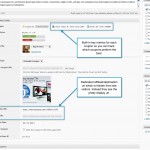 The latest version of Clipper has just been released. This is a new feature and bug fix release so all customers should upgrade. There was a total of 30 tickets completed which include several new features. A breakdown of tickets can be found below.
The most notable features in this release include: coupon and store link cloaking, affiliate link click-thru and CTR tracking, new dedicated store & category TOC pages, new "unreliable coupons" section (success rate 50% or less), and store moderation option.
This release makes Clipper the most advanced coupon management theme on the market. Existing customers can download it from their customer dashboard. If you haven't purchased it yet, now's the time to pull the trigger!
Fixes:
issue where new store is created (with no coupons yet) and displays the incorrect url and website screenshot
importer now includes store url & coupon destination url fields
footer widget display issue where left side text was being cut off
clipper top of header logo was being cutoff by a few pixels
styled the rss sidebar widget so it better matches the theme
added singular text for one coupon listing
coupon type drop-down in WordPress admin coupon edit now shows/hides field based on selection
issue where a broken image would show even if no ad was set on the store page
issue where total "coupons active" count was incorrect when there were multiple pages
issues with Safari & Chrome where css box-shadow wasn't working
issue where store url and thumbnail weren't displaying for new empty store
issue where chart widget didn't show up in IE9. upgraded to flot 0.7
issue where some servers errored b/c mb_strlen function wasn't enabled
changed menu tab width so it accommodates larger menu text strings
Changes:
added new stores page template listing all stores by first letter
added new coupon categories page template listing all categories by first letter
added destination & display URL fields for coupons and stores
built new masked coupon & store URLs engine to hide affiliate links
built new click-thru tracking engine and CTR stats for each coupon
built new store moderation option so newly submitted stores can be reviewed first
added new store, category, & tag sections for unreliable coupons (less than 50% success rate)
added destination field to the coupon submission form
restyled the coupon WordPress admin write panel and added metrics (views, clicks, CTR)
added new clicks/views and CTR columns to the coupon WordPress admin page
added new clicks and active columns to the stores WordPress admin page
redesigned the coupon meta box on edit coupon WordPress admin page
updated colorbox to the latest version 1.3.17.1
How Can I Get This Version?
Existing customers can login to their customer account and download the latest version.
How Do I Upgrade?
If you haven't made any changes to the theme files then the easiest method is to just do a complete upgrade (download the full 1.1 version). Then follow the "How to Upgrade Versions" guide. If you've made modifications to the core theme files, then we recommend installing the patch version instead. Then follow the "Installing a Patch" guide.
Questions?
Anything related to support should be posted in the Clipper support forum where our dedicated support team can assist you.
What Files Have Changed?
Many of our customers have done customizations to the core theme files and want to know exactly which files have been added, modified, and removed. In addition to providing the latest full version download, we also include a patch release. This will be a much smaller download and only include the files that have changed since the previous release.
So instead of having to read through the change log and figure out what files have been modified, you can just download the patch and sftp the files directly into your existing Clipper theme folder. You'll still want to deactivate and then reactivate your theme so everything gets updated correctly but this will improve your upgrading experience.
Make sure to read the "Installing a Patch" guide if you decide to go this route.
Here's the list of all files affected in the 1.1 release (from v1.0.1).
tpl-stores.php	Added
tpl-coupon-cats.php	Added
images/page_go.png	Added
images/key.png	Added
includes/theme-links.php	Added
style.css	Modified
clipper-no-admin.pot	Modified
taxonomy-coupon_category.php	Modified
images/logo.png	Modified
includes/appthemes-functions.php	Modified
includes/forms/submit-coupon/submit-coupon-process.php	Modified
includes/theme-actions.php	Modified
includes/admin/admin-post-types.php	Modified
includes/admin/admin-values.php	Modified
includes/admin/admin-importer.php	Modified
includes/admin/admin-style.css	Modified
includes/admin/write-panel.php	Modified
includes/admin/install-script.php	Modified
includes/theme-functions.php	Modified
includes/reports/reports-main.php	Modified
includes/js/colorbox/jquery.colorbox-min.js	Modified
includes/js/colorbox/colorbox.css	Modified
includes/js/flot/jquery.flot.min.js	Modified
clipper-no-admin.po	Modified
taxonomy-stores.php	Modified
featured.php	Modified
clipper.pot	Modified
loop-coupon.php	Modified
taxonomy-coupon_tag.php	Modified
changelog.txt	Modified
single-coupon.php	Modified
tpl-dashboard.php	Modified
clipper.po	Modified
examples/coupon-import-template.csv	Modified
Enjoy!