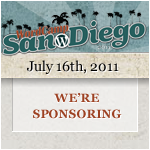 Road Trip! We're getting ready to attend three WordCamps this summer and we want to meet you there.
The first WordCamp is just a few days away in Reno. We'll be making the beautiful drive over the Sierra Nevadas to attend WC Reno. We're really looking forward to it.
Next up is WordCamp San Diego on July 16. This will be San Diego's first WordCamp and they have had a great response. The 200 available tickets sold out in no time. We're even more stoked about WCSD as it will be the first WordCamp sponsored by AppThemes. To top it off, the World Champion Giants (yes, we are fans) will be in San Diego to play the Padres. WordCamp on Saturday and hot dogs and baseball on Sunday – how could it get any better?
Of course, the big event will be WordCamp San Francisco in August. There's no way we'd miss this one. We're making plans to do something fun that weekend and we will have more news later.
If you are planning to attend any of these events, let us know. We'd love to meet you in person. Also, if you are local to the San Francisco Bay Area, try dropping in at a WordPress meetup. David is one of the organizers for the San Francisco WordPress meetup and will be speaking at the next meeting.
It's going to be a great summer. Hopefully we will get a chance to meet you in person.
Cheers
Shannon

WordCamp Reno: http://2011.reno.wordcamp.org
WordCamp San Diego: http://2011.sandiego.wordcamp.org
WordCamp San Francisco: http://2011.sf.wordcamp.org
San Francisco WordPress Meetup: http://www.meetup.com/wordpress-sf
East Bay WordPress Meetup: http://www.meetup.com/Eastbay-WordPress-Meetup