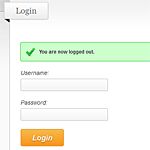 I'm sure you all have been waiting with bated breath, and your patience has been rewarded. I'm here to announce that the first update to Vantage is here.
Vantage 1.0.1 has a bunch of stuff that you've been asking for:
Themed Logins
You asked, we listened. Login, Registration, and the rest of the user experience is themed for an immersive experience for your users.
Bundled Child Theme
We've bundled a child theme right along with Vantage. The child theme is the absolute basics but it's a head start to creating child themes the best way possible. All you have to do is move it from the Vantage directory to the Themes folder, and start modifying.
Read more