Vantage Status, a Mea Culpa and a Sale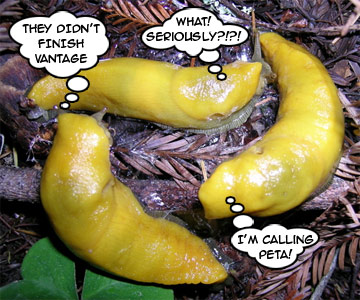 The end of the year is upon us and it looks like I'll be eating banana slug stew. Vantage will not be ready by December 31.
Our development team has been burning the Vantage candle from both ends the last several months. We're close – we just need a little more time. It's important to us that we get it right before releasing it into the wild.
We understand that everyone has waited a long time for Vantage. As we come closer to completion, we are prepared to offer up a mea culpa. So here it goes:
30% Off All Themes
Next week, all our themes and Club packages will be on sale. 30% off ClassiPress, JobRoller, Quality Control or Clipper. Or take 30% off either of our Club packages. The sale starts at midnight January 1st thru January 7th (PST -8 GMT). Coupon code for the sale is: BANANASLUG
Any Love for Club Members?
That's great for new customers, but what about all our loyal Club members that have been waiting patiently for Vantage to be released? Well, all AppThemes Club members will receive Vantage first. That's right, you'll have exclusive access to Vantage before we release it to the rest of the world. It's the least we could do for our most devoted customers.
Another Sale Later
Finally, when we do release Vantage to everyone, we'll be offering it at a 30% discount from our normal price.
We really do appreciate our customers and we're very excited to offer Vantage to the world as soon as possible. We thank everyone for their patience while we complete the final details of what will be a great theme.
What about the Slug?
And lest you think we have forgotten, we'll have more news on the fate of our friendly banana slug soon. Happy holidays and have a great New Years!