One-Click ClassiPress Theme Installation
Besides all the great new features included in ClassiPress 3.0, I also wanted to bring up the much improved installation process. Most Premium themes or plugins you install (including ClassiPress 2.9) require you to manually create pages, assign them to a custom template, name the permalink/url a certain way, publish them, find the page id, paste it into another field, and then save.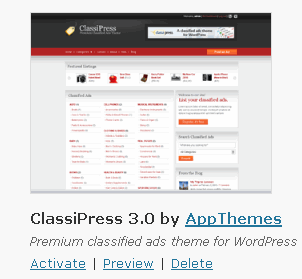 Not only is that process a real pain, but it takes time and allows the opportunity for mistakes. It also means those who don't like to read instructions or cannot read English will have a lot less trouble getting their site setup. It also is a good thing for those who are new or aren't very comfortable with WordPress in general.

This functionality is revolutionary with premium WordPress themes and in 3.0, all this will be fully automated once you activate the theme. We like to lead by example and you'll see several other trailblazing features including the WordPress custom fields GUI built into 3.0. Yes, you will still have to go in and adjust the ClassiPress setting pages but the manual process of creating pages and assigning templates will be done behind the scenes within the install script.
Oh, and for those of you who noticed the screenshot, the featured ad listings will be much smaller and located across the top on the home page. This is one of two available home page layouts in 3.0. It's also using a jquery carousel which automatically rotates through your featured ads. You'll also notice that ClassiPress is by AppThemes which will be a premium wordpress theme site launching later this year.