Clipper Coupon Theme Design Preview

Now that we are officially a "theme company", it's important to produce more high quality, well, themes of course.
Launching AppThemes took many months of development and migration which slowed us down on product development. With the new infrastructure in place, we are now in a good position to scale and offer more products to our customers.
Our goal over the next several months is to release a handful of nifty new WordPress apps and sprinkling in some typical premium themes.
Now many of you have asked if there will be a subscription-based pricing model so you can get each theme as it becomes available. The good news is yes, there will be a "theme club" which we will announce later this year.
One of our newer projects called, "Clipper" is a coupon management premium theme. This is a great affiliate money maker theme or a theme you can use to have visitors share coupons they find. Either way, this type of site has become very popular and can produce high traffic if filled with coupons….
Some of the key features will be:
Clean, functional design with 5 color schemes
Form so visitors can easily submit coupons
Featured slider for coupons or stores
Integrated email subscribe sidebar widget
Custom post type, taxonomies, and write panel
Separate blog using native WordPress posts & categories
Dedicated store pages which list out all their coupons
Yes/No buttons to vote if the coupon works or not
Easy to use admin options panel like ClassiPress
And much more!
Here are the final screen shots for the red color scheme design. Feedback is of course welcome.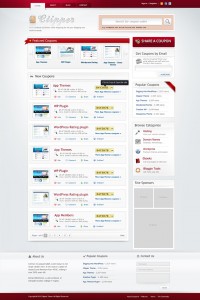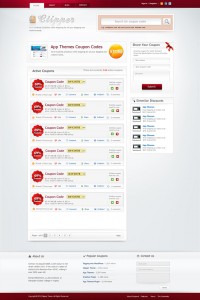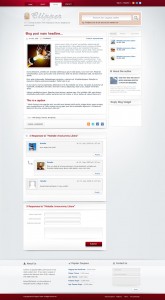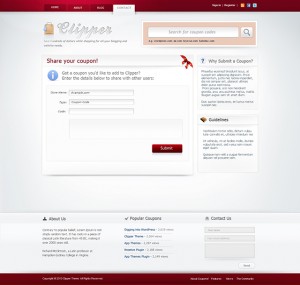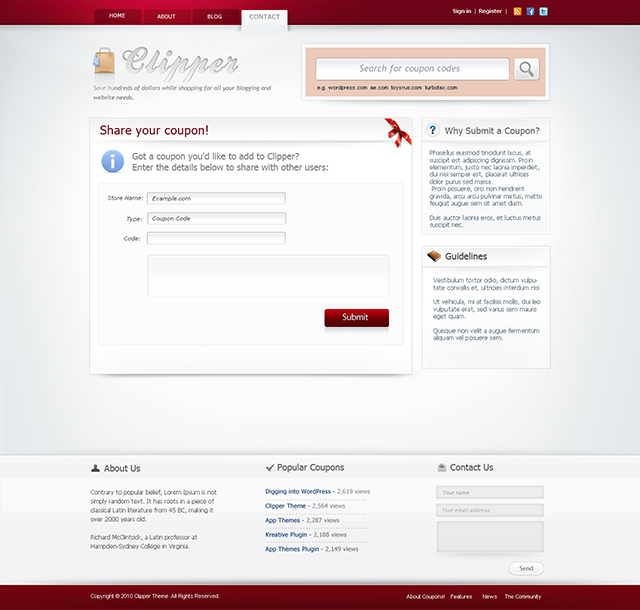 Follow our theme release status page to view the progress and approximate released date of Clipper.