How to Create a Classifieds Website to Sell Second Hand Goods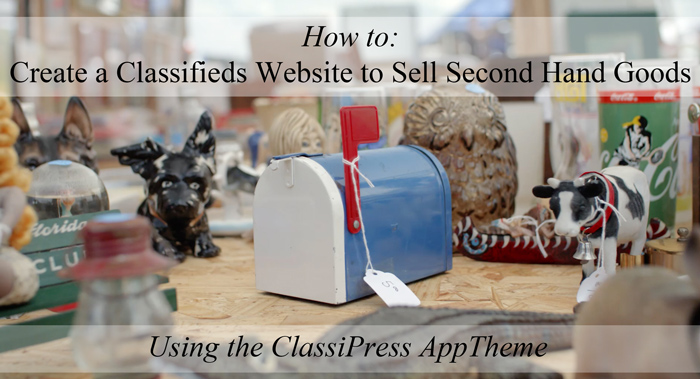 The days of rummaging through tables of goods at garage sales early on a Sunday morning are diminishing as those items are now being listed on virtual marketplaces also known as classified websites. If you live within an area where you see a large pool of interest in second hand buying and selling, creating a Classifieds website can allow you to not only earn advertisement income but also gives you a platform where you can post your own second hand items for sale. In this article we will look at how the ClassiPress AppTheme can be used to create a second hand classifieds website where the administrator can earn listing income and third party advertisement payments.
Considerations When Creating a Classifieds Website for Second Hand Items
If you intend on creating a classifieds website, in particular a second hand classifieds site, there are a number of things to consider. You will first need to choose a platform. In the case of this article we will be using WordPress and the popular ClassiPress AppTheme to bring a second hand classifieds website to life. Using ClassiPress takes the hard work out of creating a website from scratch and then allows the site to be easily customized to suit any niche.
When creating a second hand classifieds listing website, you will also need to consider if you are going to keep it local, meaning you will target your area only to sell and buy second hand items, or if you will do a larger scale classifieds where those who post are happy to ship goods that they advertise. If the item is to be shipped, the advertiser should make note of different shipping charges in the description field.
If you wish to further 'niche' your second hand classifieds website you might like to focus on one of the key areas of second hand selling below, or alternatively use these as categories for a broader second hand classifieds website:
Second Hand Clothing or Second Hand Designer Clothing
Second Hand Baby Items or Second Hand Designer Baby Items
Second Hand Appliances
Second Hand Vintage or Antique Items
Second Hand Furniture
Second Hand Shoes
Steps to Create a Niche Second Hand Classifieds Website
Creating a classifieds website is simple when the ClassiPress AppTheme is used. In the steps below, we outline how you can create your very own second hand classifieds website where you, yourself can advertise items as well as allow others from your local area to list their goods/services for sale. A second hand classifieds website brings like minded buyers and sellers together. You might even find if your website gains enough traffic, certain retailers, antique or vintage store based shops or other local businesses may even ask for you to advertise on the sidebar for them.
Once you complete the steps to create a second hand classifieds website, your homepage will look similar to the test website we have created below.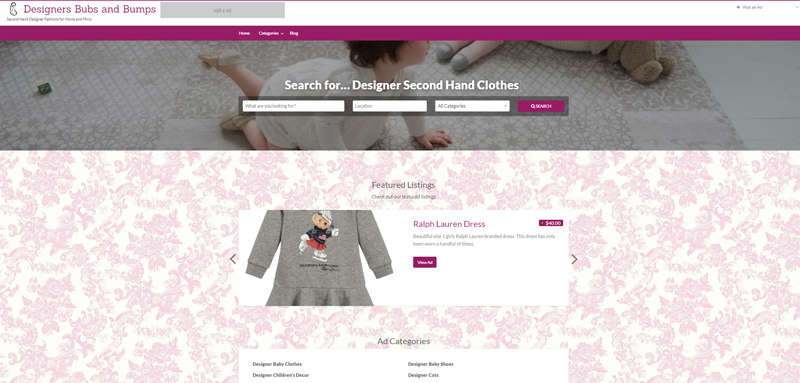 Step 1) Purchase and Install ClassiPress
Once you have set up a WordPress website, the next step is to ensure you have the ClassiPress AppTheme installed and activated on your website. Once the theme is activate it is somewhat of a blank canvas. The foundations are there although the customization is entirely up to you. Before you begin altering the appearance of the AppTheme, you'll need to configure some basic settings. While for many websites, the default settings will work just fine, ensure you have a browse through the ClassiPress Settings and Payment Settings to make sure the default options work with the website you are creating.
In terms of a second-hand classifieds website, we recommend you alter/consider the following default settings:
ClassiPress Settings Listing Tab: Do you wish to manually approve each new ad listed or not?
ClassiPress Settings Listing Tab: Should expired listings be automatically removed from the website (pruned)?
ClassiPress Settings Listing Tab: Do you wish for each advertisement to have at least one image?
ClassiPress Settings Listing Tab: What is the maximum amount of images you wish to allow per advertisement?
ClassiPress Settings Structured Data Tab: Will you use the product listing schema for your second hand classifieds website?
ClassiPress Settings Security Tab: Do you wish to enable reCaptcha to limit spam users on your website?
Payment Settings PayPal Tab: Will you use PayPal to accept ad listing money or will you use bank transfer?

Step 2) Customize Your ClassiPress Site
A website where second hand goods are advertised may or may not have a rustic feel. You may be setting up a classifieds second hand website with the intent on only allowing designer second hand items to be listed and wish for the site to feel elegant. The look and feel of your second hand ClassiPress website, will ultimately mimic the type of goods that will be advertised.
The latest ClassiPress version allows you to use one large header image. Using a high quality image that represents the feel of your website will not only add to it's over all look but also the legitimacy of the website.
To customize the look and feel of your ClassiPress website, you will need to locate the WordPress customizer. This can be found by clicking on the 'Appearance' menu and then on 'Customize'. From the customizer, for a visually appealing second hand website you will want to:
1) Add a site logo, a tagline, a footer copyright and a site icon from the 'Site identity' tab.
2) Choose a color scheme for your website.
3) Add a background image of your choosing. This will sit behind any advertisements so choose an image that will not take away from the content.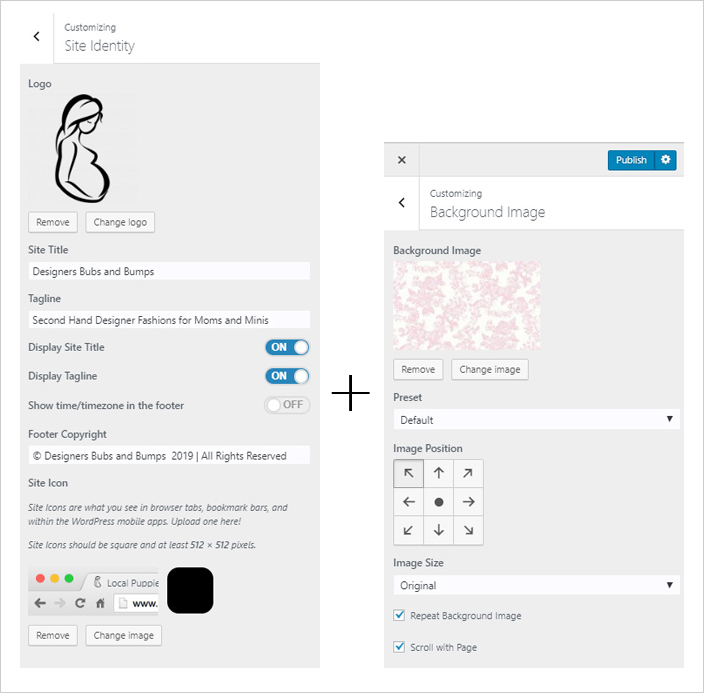 To add a banner image for your website, you will need to locate the 'Search For' page under your WordPress 'Pages' menu. It is here you can simply replace the default banner image with a large high definition image that suits your website. You will also need to change the 'Search for' words to better relate to your website. For example, a second hand website may say 'Search for… Second Hand Clothes and Second Hand Furnishings'. Click the 'Update' button to save the changes.
These customized details can be sighted in the screenshot below.

Step 3) Create Second Hand Classified Categories
The categories you create will depend on how niche your second hand classifieds site is going to be. The categories you create will ultimately be the types of advertisements the visitors will be able to list. Keeping the categories broad can work for large second hand sites or if you have a local website, niche categories may work better. Keep in mind that down the track you can apply additional charges to list an advertisement in a certain category.
To add a new category for your second hand classifieds website, you will need to click on the 'Categories' menu found under 'Ads'. From there you simply give the category a name, slug and description followed by clicking the 'Add New Category' button. You can find more information on creating categories and tags here.
Some categories you might like to add to your second hand classifieds website may include:
Clothing
Furniture
Appliances
Manchester
Children's Items
In our example we are creating a second hand website to advertise designer children's items so our categories will include:
Designer Cots
Designer Baby Clothes
Designer Baby Shoes
Designer Manchester
Designer Children's Decor
For each category you add, you can also apply a relevant category image of your choice.

Step 4) Ensure the Ad Form Relates to the Website
When a user comes to your website in hopes of advertising, they will need to fill in a form for their ad. Using the ClassiPress AppTheme you can customize the form to ask relevant information about the item the user is listing. The more details listed about the item, the greater the chance of a purchaser showing interest.
The 'Forms' menu can be found under 'Ads'. You can create a generic form that applies to all your categories meaning that no matter which category is selected for the ad, the form will always be the same, or alternatively you can create a new form for each category you have listed. You will need to give your form a name and a description. Once you have created a form, you will need to create fields that you can add to the form. For example, we have added a field asking how long the person has owned the designer item.
Find out more about creating forms and custom fields here.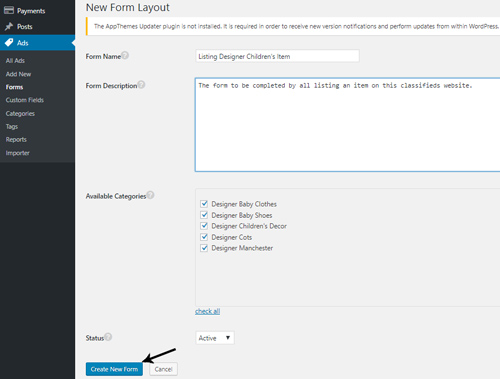 Step 5) Add Listing Charges
If you intend on charging users to list an advertisement from the beginning, make sure you configure this prior to going live with your website. All listing charges can be configured from the 'Payments' menu. You will also need to make sure the 'Charge for Listing' checkbox under the 'ClassiPress Pricing'  menu has been checked. You can choose to create 'Ad Packs' and 'Membership Packs' as well to offer potential regular user of your website.
When adding listing charges, consider that the item being sold is second hand and the seller more times than not will already be selling the item for less then they paid. By keeping listing charges low, you will increase your chances of receiving more advertisers.
Step 6) Complete a Listing

Prior to advertising your new website, it is important to complete the listing process from the front end of your website to ensure the instructions are informative, the payment process is successful and the ad appears detailed enough so that buyers are encouraged to contact the seller. If you have a number of items lying around the house that are a fit for your website, you may like to list them for sale to give the website some content prior to directing friends or family to check it out.
Once you start to see some listings on your website, advertising your second hand classifieds site through email, social media channels and sponsored posts may increase the traffic and lead to more paid listings.
Step 7) Find Local Business Who Wish to Advertise on Your Website
If you have completed your Classifieds website, you may wish to earn additional income from displaying a sticky advertisement in your website's header or on the sidebar of each listing page. If you find that you are receiving a significant amount of traffic it may be time to reach out to local businesses within the second-hand niche that may be interested in gaining exposure from your visitors. If you find someone interested in advertising, you will need to create a graphic image. This image can then be added via the 'Advertising' tab found under the 'ClassiPress Settings' menu.
Step 8) Add a Blog
If you have free time on your hands, adding a blog to your website that relates to what is being sold can bring in further traffic. If you are creating a second hand classifieds website, you could create a blog about all the tips and tricks on purchasing second hand items. Alternatively, if you are targeting local people in your area, you might like to include a blog about local second hand shops. Adding a blog is optional although recommended if you intend on gradually increasing website traffic over time.
Tips When Listing Second Hand Items on Your Classifieds Website
If you intend on listing some of your own items, or you wish to create an advisory blog page, some of the following points may be notable.
Research similar items on the internet so that you can determine a realistic asking price
If you don't mind negotiating the price, make this known in the advertisement
Provide as much details about the item as possible
Ensure the email and phone number attached to your listing is accurate
Respond timely to any interest about the item and if you are selling a high priced item, be ready to allow interest buyers to view the item
Add multiple high resolution images to your advertisement to increase interest