Clipper Powers Celebrity Coupon Site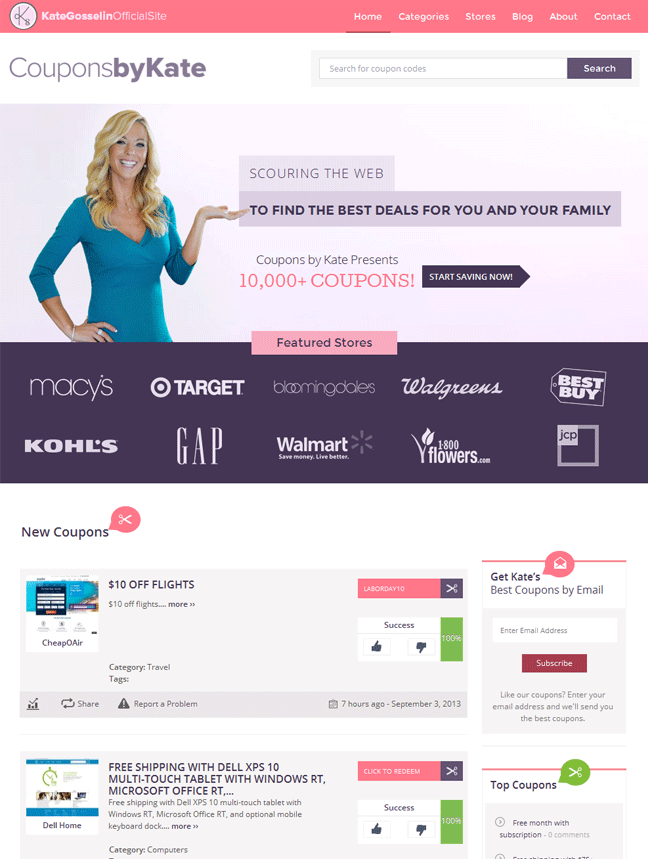 Celebrity couponer Kate Gosselin has a brand new coupon site and it's running on the number one coupon theme for WordPress, Clipper! Have a peek at Kate's Clipper site.
Kate Gosselin was the star of Jon and Kate Plus 8 and was also a contestant on Dancing with the Stars. Turns out this reality TV star is also a big time couponer. She previously blogged for CouponCabin but wanted to have a coupon site of her very own.
Choosing Clipper was an easy decision for Kate. With eight kids and the demands of celebrity life tugging at her, Kate doesn't have a ton of time to manage a coupon site. Fortunately, Clipper makes running a coupon site quick and easy.
Powering this reality TV star's coupon clipping site is no small task but Clipper is easily getting the job done.
Kate's site is packed with over 12,000 coupons provided by AppThemes partner, Coupilia. There's plenty of traffic to the site, too. Miss Gosselin has over 150,000 Twitter followers and she's tweeting news about her coupon deals daily. A cover story for People Magazine with a mention of CouponsByKate.com means even more traffic for Clipper to handle.
The results are fantastic! A great custom child theme, snappy page loads and tons of coupons. Without a doubt, this is Clipper at it's best!
Want to Learn More?