Overview
  Note – This theme is no longer available for sale nor do we provide support for it. We are keeping this page up just for informational purposes only.
Ideas is a productivity theme which allows you to listen and engage your customers. Whether it's a Web site suggestion or a new feature request for your product — the Ideas theme will help bridge the communication gap.
With the Ideas theme powering your customer feedback engine, it's easy to setup categories, capture ideas, prioritize by votes, and choose the best ones to implement.
Opening this direct channel with your customers will make your products and services better and lets your customers know you're listening and care.
Limited time offer
- Get
50% off
any AppThemes product if you sign up with one of our web hosting partners!
Click here
to find out more.
Customizable Email Notifications
Email notifications on new approved ideas can be easily customizable from the backend. Options include adding HTML in the email body and the use of special variables that help you create a tailored fit email.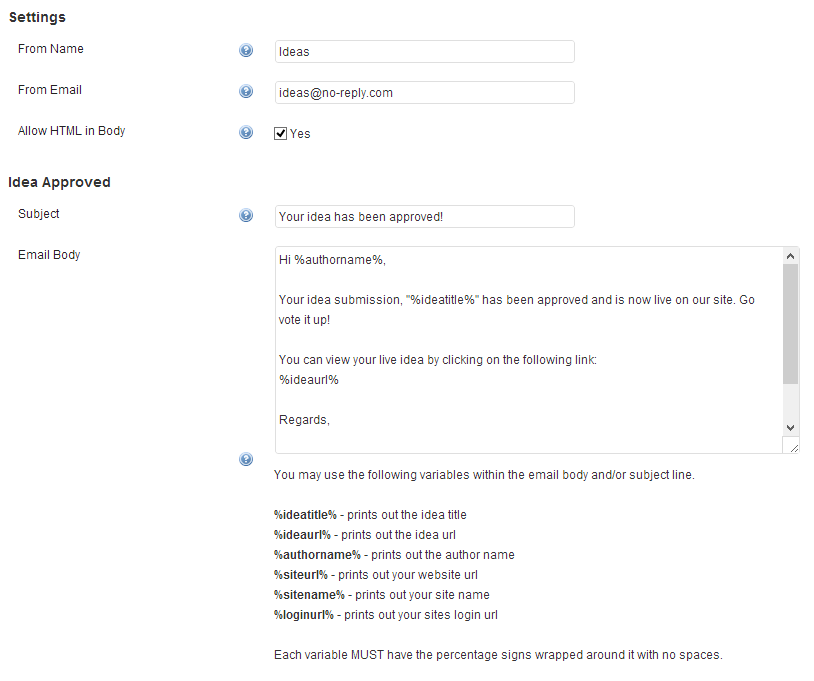 ---
Backend Panels for Ideas Management
The single idea editing page contains additional panels that help you communicate each idea's status, publicly or internally. The 'Official Response' field allows admins to instantly communicate the status of each idea to users. You can also view the total votes for the idea being edited and instantly reset it.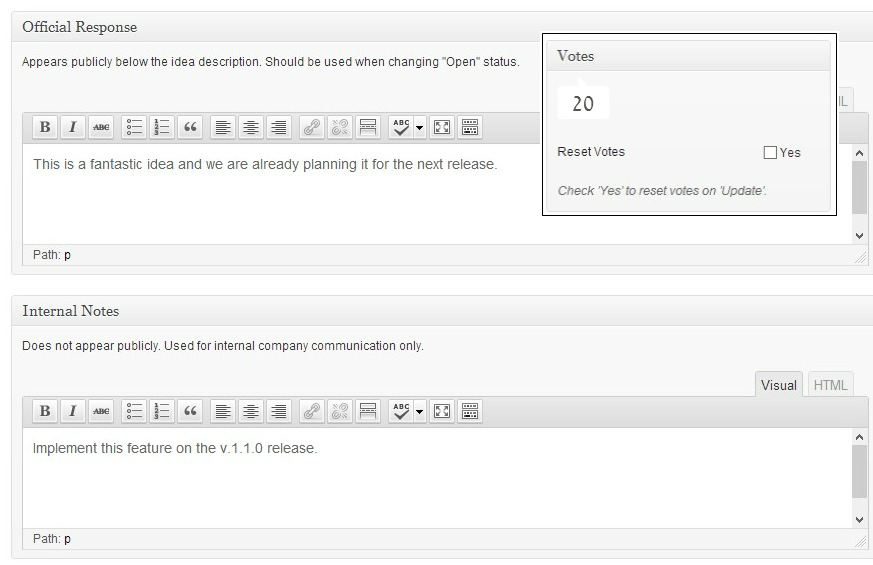 ---
Admin Reset Votes
Votes for ideas and users can be reset individually or in bulk. We've added a dedicated 'Reset' settings page that allows bulk resetting votes for all users and ideas. Alternatively, votes can be reset individually by editing the idea or user profile and selecting the 'Reset Votes' option. User votes can also be automatically reset each month, by enabling the related option on the 'Reset' settings page.

Moderate Ideas
Not sure if ideas submitted by users should be immediately published? Don't worry, there's an option for that. You can easily enable or disable the moderation option on the Ideas settings page.
Customized Backend Listings
Backend ideas and users listings were trimmed down to show only the most useful information. Additional columns were added to display status and total votes for each idea. Users lists display the total submitted ideas, total votes used and the votes left.
Threaded Comments
Users discussion play a big role on the Ideas theme, that's why the comments system takes full advantage of all WordPress discussion settings, including threaded comments. Easily enable or enable any comment settings directly from WordPress 'Discussion' settings page.
Unlimited Statuses and Categories
Categories and Statuses are custom taxonomies, meaning that you can easily add any status and category. Additionally, you can configure which status represent an open idea (i.e Under Review, Planned, etc), on the settings page.
Extended User Profile
User profiles display the usual personal details as well as additional voting details such as casted votes, votes left, and a list of ideas the user voted for. The extended details are visible on the backend and frontend.
AJAX & jQuery Features
Votes for each idea can be added or subtracted instantly without page reloads. Vote an idea up or down and see the total votes updated immediately.
Sortable and Filterable
Ideas can be sorted by the number of responses or votes, on the frontend. Administrators can additionally sort ideas listings by date, author, category or status, on the backend. A customizable widget is available to allow filtering ideas by category.
Integrated Permalinks
To keep options in context we try to integrate our settings with WordPress as seamless as possible, that's why the Ideas permalinks can be changed directly from WordPress permalinks page.
Easy Administration
Running your AppThemes site is easy. We include options for just about everything so you're comfortable managing your business operations.
Dedicated Blog
Keep the marketing beat going by writing content on your blog. It's part of the theme, yet completely separated out using the native WordPress posts module.
SEO Friendly
We understand how important SEO is for your business. Our themes are built to instantly take advantage of SEO best practices. All you need to worry about is running your business.
Child Themes & Plugins
Change the look of your site with a 3rd party child theme. Add additional functionality with an aftermarket plugin. All our themes make it easy to bolt on other items.
AppThemes API
Developers can easily customize functionality without having to modify the original code. We use WordPress action and filter hooks which makes it a breeze to build on top our products.
Additional Benefits
Free Product Updates
Product updates are complimentary the first 12 months. As our products continue to evolve, you'll be able take advantage of all new features and fixes.
Quick & Easy Setup
It won't take long to get up and running as most features work out of the box. Spend time selling instead of getting bogged down with configuring options.
Clean Open Source Code
Our code is written with high standards and well commented for easy understanding. It's 100% open so your developer can edit as needed.
Multi-Language Support
Drop in one of our free language packs provided by our community or translate it on your own. It's flexible enough to do either.
Global Support Team
Our support team is multilingual and globally dispersed for a balanced layer of customer coverage. We're available to help and answer your questions.
Built by WordPress Pros
Our products are handcrafted by top WordPress developers. The knowledge and experience runs deep which means our products are top-notch.
Purchase Options
Our pricing is simple and you can upgrade your plan at any time.
Standard
$69
Ideas theme
Lifetime license
Unlimited websites
12 months support
12 months updates
Add to Cart
Club
Popular
$199
All themes

Lifetime license
Unlimited websites
12 months support
12 months updates
Add to Cart
Over $1,400 in products (best value)!