We just released the latest version of JobRoller yesterday which includes a bunch of great new features. Some of the highlights include:
Advanced Search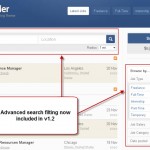 You can now further refine your search results with a whole new set of filters. First and foremost, we enhanced the existing search bar to include "location" and "radius".
This allows your job seekers to narrow down their criteria within a mile/kilometer. It's super accurate since it's integrated with the Google Maps API.
We've also added a new sidebar widget where you can filter results based on job type, job salary (new field), job category, and date posted.
Read more