I'm pleased to finally be able to announce the highly anticipated, long awaited, release of ClassiPress 3.1! This has been a release in the making for many months and is a culmination of countless hours of work from our entire team and our beta testers (thanks guys & gals).

The most notable features in this release include:
Advanced Search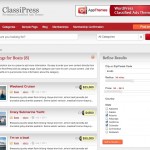 Not all categories have the same type of ads, right? For example, ad listings for cars would be quite different than real estate listings. Not to worry. ClassiPress 3.1 now sports the most advanced WordPress search around. It allows you to create category-specific search modules so your visitors can easily refine their search results.
Each category search module includes a radius (by city or zip code) and price slider for pinpoint accuracy (due to geocoding each ad using the Google Maps API) along with any other category-specific fields you'd like to include.
Read more