Certified Partner Program Launched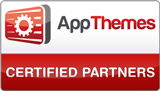 One of the most common requests we receive from our customers is, "Do you provide consulting services"? As much as we'd like to help, we just don't have the resources to do outside projects. Instead, we focus our efforts on enhancing and building amazing WordPress Premium Apps.
But that didn't stop us from figuring out a way we could add value to our customers and provide such a service. Our new AppThemes Certified Partner program does just that. We've partnered up with some top design/development firms who would be happy to help you customize your AppThemes themes.
Need everything from soup to nuts done for you? No problem. Domain name acquisition, web hosting, WordPress installation, AppThemes setup, custom logos & graphics, and much more can all be handled by our AppThemes Certified Partners.
We are currently accepting new partner applications so if you have solid design/development skills and are familiar with our themes, you might be the perfect fit. Learn more about how to apply for our AppThemes Certified Partner program.